I am enormously pleased to officially unveil the new logo for the Kamusi Project.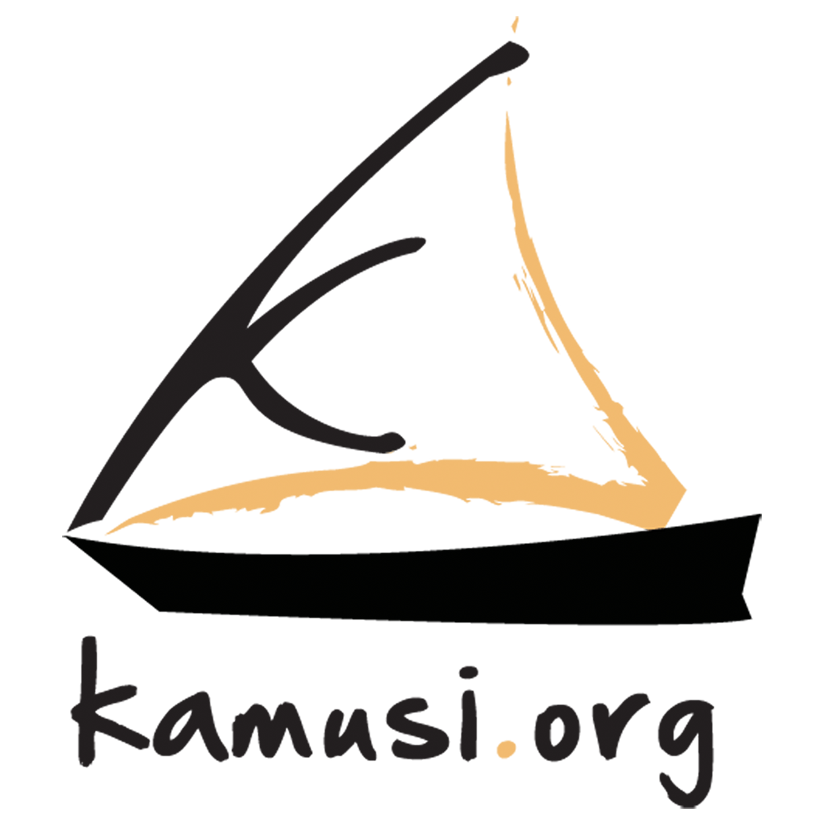 This logo has been a very long time in the making. Ideas have been floating around for at least two years, while we've also been busy arranging the future of the Kamusi Project as an independent organization dedicated to African language resources. (If you like the logo, you can
support Kamusi's future
by purchasing
gear
featuring
the new artwork
.)
We did not start out with a firm idea of what we wanted in a logo, other than the main requirements that the logo should:
1) convey the notion of language
2) convey a positive image related to Africa, without resorting to archaic stereotypes
3) be scalable, from a very small graphic all the way to something that would look good on a t-shirt or poster
4) contain "kamusi project" or "kamusi.org" within the graphic design
About two years ago, Wallimohammed Datoo volunteered to work on a new logo design. Walli is a Tanzanian designer/ programmer/ Open Source activist who sent the Kamusi Project a
warm letter
and an offer to help where needed. After a little discussion, he sent in a few sketches.
The diamond-shaped sketch was the most gripping, but did not "speak" about communication; with a slight modification, it was a perfect graphic for the
ANLoc Afrigen project
being led by the Kamusi Project and
IT 46
, and sponsored by
IDRC
. The other sketches fell short of one or another of the basic requirements. We were starting to appreciate the difficulty in finding something that was original, Africa-focused, language-oriented, and visually exciting.
As usual when faced with difficult design issues, I turned to
Greg Huntoon
for some insights. Greg is an ace designer who is responsible for the current look of the Kamusi Project web page. He asked lots of probing questions to try to tease out what should really go into a graphic. The big challenge was, what sort of image can be instantly identifiable as related to African communication, without being stereotypical and without being something that you've seen a hundred times already? Innumerable organizations use the shape of the continent for their logos, so scratch that. Animals are overused and hew to a "wild Africa" vision that does not relate to the dynamic social realities of life on the continent. Spears, dancers, women carrying jugs on their heads - absolutely not. Faces speaking would be much too difficult to get right. Cell towers or computers would suggest the modern communications that the Kamusi Project is involved with, but we could not think of a visual way of tying them to the continent.
Then the US National Museum of Language held a design contest for an International Flag of Language. The
winning design
was an image of a tree, with three shades of green leaves represent living languages, dead languages, and future languages respectively on a brown two-tone tree trunk, and curves flowing away from the tree to represent the spread of knowledge gained from languages. A tree! What could be more emblematic of Africa than an Acacia tree? With this thought in mind, and unable to contact Walli with his busy travel schedule as Red Hat Product Manager in the UK, we put out a call for volunteer designers.
Several people stepped forward, including a Kenyan woman named Grace Musau. Grace sent in a few designs exactly according to specifications. Her artwork was quite appealing - but looking at the acacia images made us realize that trees had already been used similarly by other organizations. Further, we still ran too close to old notions of wild Africa. Where were the people? Where was communications technology? So it was back to the drawing board, with deep thanks to Grace for the efforts she put in on these designs:
Another long discussion with Greg, who suggested that we go for a radically simple design, such as this:

Simple was good, but the sketch did not say anything particularly African. And the quote balloon concept was starting to look very old. Wasn't there some way to talk about talking, without using a quote balloon? "Concentrate on the K," Greg advised. A capital K is an attention-grabbing graphical element, pointing toward the sky. Somehow, Kamusi's K should be central to the logo.
More months, with the logo idea on the back burner. Then this past December I was sitting in a meeting, and doodling on my notepad. Below is a scan of what developed in the margins.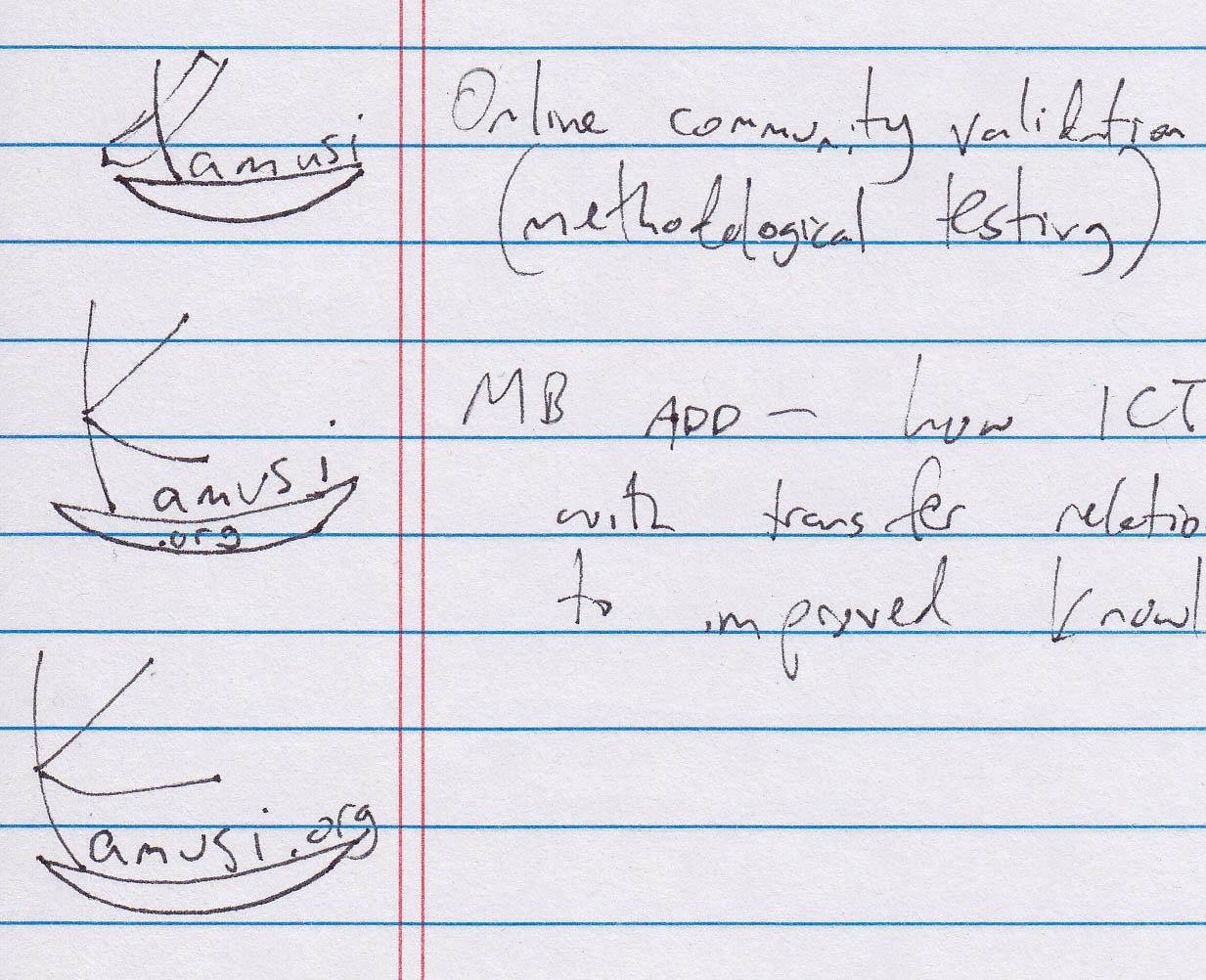 The K became a sail, perched on a dhow - the type of boat that has been sailing up and down the East African coast for centuries, central to communication and trade. After the meeting, I showed the doodle to Mohomodou Houssouba, the treasurer of Kamusi Project International. Mohomodou is from Mali, a West African country with no connections to ocean trade. His immediate reaction was, "That reminds me of the fishing boats on the Niger River at Timbuktu." An idea that worked across Africa, related to communication, conveyed a positive image, did not resort to stereotypes, and made use of that graphic K - could it be?
The next day I made a better sketch and sent it to Greg and Walli. Walli played with the idea for a while, and came back with these four sketches:
Almost there! Greg suggested moving the "kamusi.org" text off the boat, and finding a more legible font. Walli tweaked some more. Finally, we had one great image, with two contending fonts.
We put the two candidates online and announced a one day poll. Votes poured in, as well as comments from people who had good reasons for liking one or the other font. The most compelling argument for the all-caps candidate was that it would be easier for people with visual impairments. However, the overall vote was two-to-one in favor of the image on the right.
The final step before launching the logo was to emblazon it on
T-shirts
,
sweatshirts
,
bags
,
mugs
,
caps
,
mousepads and more
, so that supporters of the project can enjoy showing Kamusi to the world. Getting the merchandise ready involved spending much of a weekend preparing and uploading all the different-sized high-resolution images in Photoshop. I hope you like the results enough to order clothing and toys for yourself,
the kids in your life
, and all your friends.
(Personally, I'm looking forward to the arrival at my house of the
kamusi.org maternity shirt
to cover my wife's beautifully expanding belly, followed by the
organic baby bodysuit
that will start service in July :)
So there you have it - a unique, non-stereotypical image that speaks of Africa's history, present, and future, incorporates the idea of communication, is gripping to look at, and, with the K in the sail, is indelibly associated with the Kamusi Project. With enormous thanks to Walli Datoo for the artwork, Greg Huntoon for the guidance, and all who have contributed or commented on sketches during the past two years, I am proud at long last to unveil the new Kamusi Project logo!
/content/unveiling-kamusi-project-logo